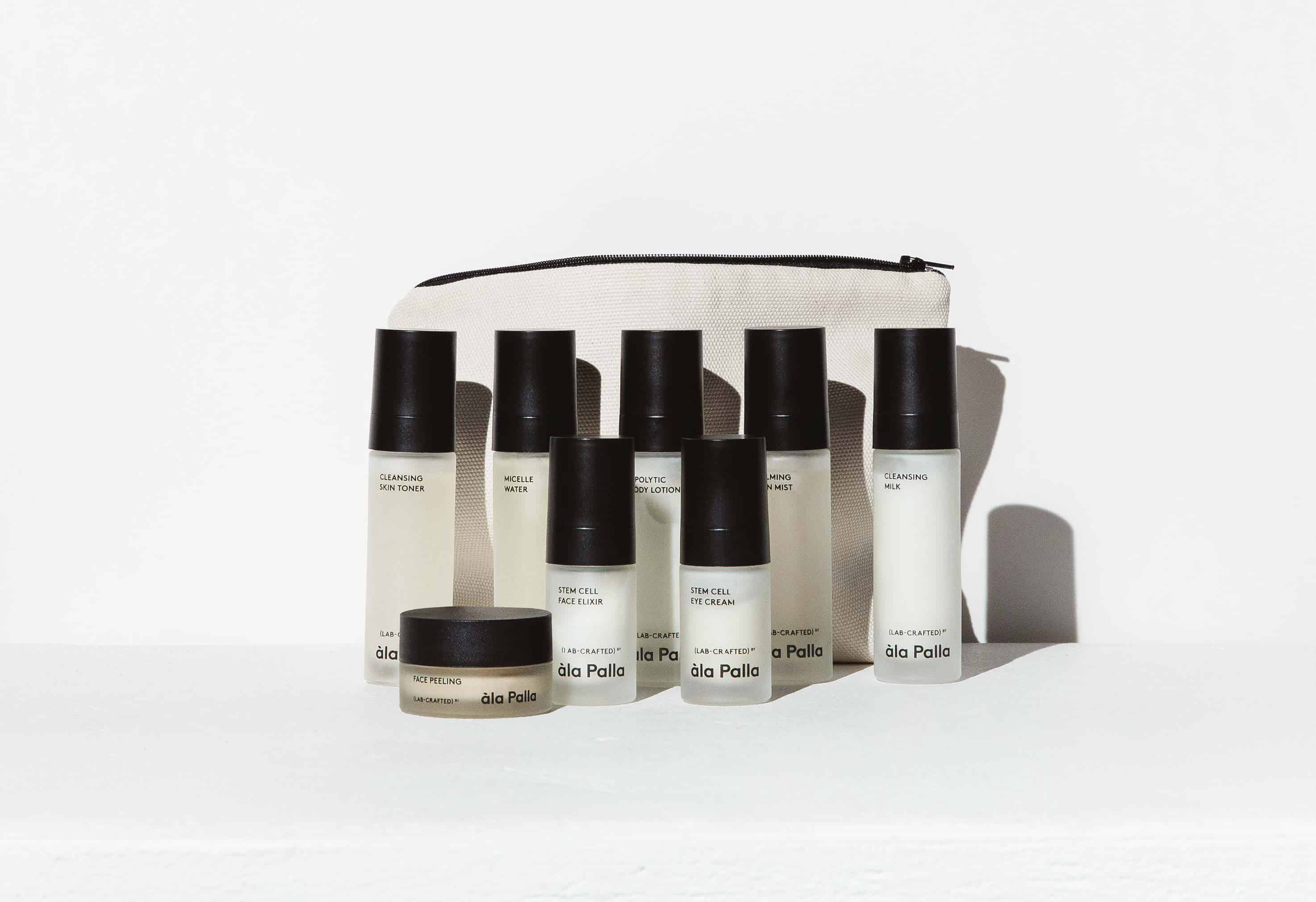 Anti-aging Travel Set
The Anti-aging Travel Set allows you to follow your cosmetic routine and ensures special care for mature skin even on the go. We deliver it in a practical bag with a durable zipper.
Cleansing Milk (30 ml)
Micelle Water (30 ml)
Cleansing Skin Toner (30 ml)
Calming Skin Mist (30 ml)
Stem Cell Face Elixir (10 ml)
Stem Cell Eye Cream (10 ml)
Face Peeling (15 ml)
Lipolytic Body Lotion (30 ml)
Volume 185 ml (2x 10 ml, 1x 15 ml, 5x 30 ml)
Cleansing Milk: a tender emulsion gently cleanses the skin from make-up and common impurities. It contains vitamin E, marigold extract, a unique hydrating complex Lactil, which helps maintain the skin's natural moisture and the active substance Dermosoft Decalact Sebum, which regulates sebum production. In the innovated formula, the emulsion is enriched with vitamin A, which improves the appearance of dry and damages skin.
Micelle Water: water with fine micelles from natural substances and liposomal vitamin C with vitamin E is suitable for removing make-up and impurities from all healthy skin types. Micellar water is enhanced by two natural patented substances. Oxyforce increases the supply of molecular oxygen to promote collagen production in the skin. Vitamin A in patented form has regenerative and anti-wrinkle effects.
Cleansing Skin Toner: cleansing skin tonic containing moisturising substances, including HyaCare® 50 hyaluronic acid, enriched with Niacinamide, aloe vera and cucumber extract. Their combination helps remove residual impurities from the skin that may have been left after using micellar water or make-up remover milk.
Calming Skin Mist: soothing moisturising skin mist with panthenol for immediate skin refreshment. Enriched with Niacinamide, hyaluronic acid and ectoine. Apply as needed by spraying
Stem Cell Face Elixir: the new elixir concept is an exclusive combination of many active ingredients, including PhytoCellTeTM Symphytum and Goji – PhytoCellTeTM Goji stem cell extracts, which have an anti-wrinkle effect and strengthen V-shaped face contours. Natural MossCellTecTM No. 1 made of unique moss protects the health of the cell's nucleus from external pollutants, thus preventing tired appearance and skin aging.
Stem Cell Eye Cream: innovative gentle gel cream is a concentrate of active ingredients, including extracts from PhytoCellTecTM Symphytum and PhytoCellTecTM Goji stem cells, which have a stimulating and anti-olfactory effect on critical parts of the skin. Natural MossCellTecTM No.1 made of unique moss protects the health of the cell's nucleus from external pollutants, thus preventing the premature formation of wrinkles in the eye area.
Face Peeling: a face peeling with natural oils and fine Himalayan salt to cleanse and regenerate normal, combination, dehydrated or tired skin. The scrub contains Goldella to support regeneration of skin tissues and protect against urban pollution, inflammation and premature aging.
Lipolytic Body Lotion: the concentrate of vegetable oils, extracts and vitamins also contains the patented natural substances Rhodysterol® and Phycoboreane®. These substances obtained from seaweed have a lipolytic effect on adipose tissue cells, help shape the body and reduce the appearance of cellulite.
Cleansing Milk: Aqua, Glycerin, Caprylic/Capric Triglyceride, Cannabis Sativa Seed Oil, Isopropyl Myristate, Methyl Glucose Sesquistearate, Cetearyl Alcohol, Glyceryl Stearate, Tocopheryl Acetate, Calendula Officinalis Flower Extract, Aloe Barbadensis Leaf Extract, Retinyl Palmitate, Lecithin, Tocopherol, Serenoa Serrulata Fruit Extract, Juniperus Communis Fruit Extract, Polyglyceryl-10 Laurate, Sodium Caproyl, Lauroyl Lactylate, Acacia Senegal Gum, Xanthan Gum, Perfluorodecalin, Simmondsia Chinensis Seed Oil, Sucrose Palmitate, Glycosphingolipids, Sodium Benzoate, Potassium Sorbate, Sodium Lactate, Sodium PCA, Glycine, Fructose, Urea, Niacinamide, Inositol, Lactic Acid, Phenoxyethanol, Ethylhexylglycerin, Ascorbyl Palmitate, Parfum, Citric Acid
Micelle Water: Aqua, Glycerin, Retinyl Palmitate, Caprilyc/Capric Triglyceride, Lecithin, Tocopherol, Perfluorodecalin, Simmondsia Chinensis Seed Oil, Sucrose Palmitate, Glycosphingolipids, Xanthan Gum, Acacia Senegal Gum, Polyglyceryl-10 Laurate, Sodium Caproyl/Lauroyl Lactylate, Serenoa Serrulata Fruit Extract, Juniperus Communis Fruit Extract, Hamamelis Virginiana Leaf Extract, Schizandra Chinensis Fruit Extract, Polyglyceryl-3 Caprate, Magnesium Ascorbyl Phosphate, Alcohol, Dehydroacetic Acid, Polyaminopropyl Biguanide, Potassium Sorbate, Benzoic Acid, Etylhexylglycerin, Caprylyl/Capryl Glycosides, Sodium Cocoyl Glutamate, Polyglyceryl-5 Oleate, Glyceryl Caprylate, Sodium Lactate, Sodium PCA, Glycine, Fructose, Urea, Niacinamide, Inositol, Sodium Benzoate, Lactic Acid, Phenoxyethanol, Lonicera Caprifolium Flower Extract, Lonicera Japonica Flower Extract, Carbon Dioxide, Parfum, Citric Acid
Cleansing Skin Toner: Aqua, Glycerin, Aloe Barbadensis Leaf Juice, Niacinamide, Cucumis Sativus Fruit Extract, Hydrolyzed Hyaluronic Acid, Leuconostoc/Radish Root Ferment Filtrate, Xanthan Gum, Arginine, Sorbitan Caprylate, Propanediol, Benzoic Acid, Potassium Sorbate, Sodium Benzoate, Lactic Acid, Parfum
Calming Skin Mist: Aqua, Glycerin, Niacinamide, Ectoin, Hydrolyzed Hyaluronic Acid, Panthenol, Sodium Hyaluronate, Lecithin, Alcohol, Sorbitan Caprylate, Propanediol, Benzoic Acid, Parfum
Stem Cell Face Elixir: Aqua, Cannabis Sativa Seed Oil, Glycerin, Olea Europaea Fruit Oil, Isopropyl Myristate, Caprylic/Capric Triglyceride, Cetyl Palmitate, CetearylAlcohol, Cetearyl Olivate, Sorbitan Olivate, Isomalt, Euphrasia Officinalis Seed Extract, Mentha Piperita Extract, Calendula Officinalis Flower Extract, Tocopheryl Acetate, Ascorbyl Palmitate, Phytol, Lycium Barbarum Callus Culture Extract, Symphytum Officinale Root Cell Extract, Panax Ginseng Root Extract, Sodium Hyaluronate, Magnesium Ascorbyl Phosphate, Lecithin, Alcohol, Polyaminopropyl Biguanide, Benzoic Acid, Dehydroacetic Acid, Sodium Lactate, Sodium PCA, Glycine, Fructose, Urea, Niacinamide, Inositol, Lactic Acid, Perfluorodecalin, Simmondsia Chinensis Seed Oil, Sucrose Palmitate, Glycosphingolipids, Sodium Benzoate, Potassium Sorbate, Acacia Senegal Gum, Xanthan Gum, Lonicera Caprifolium Flower Extract, Lonicera Japonica Flower Extract, Carbon Dioxide, Phenoxyethanol, Etylhexylglycerin, Parfum, Citric Acid
Stem Cell Eye Cream: Aqua, Cannabis Sativa Seed Oil, Glycerin, Caprylic/Capric Triglyceride, Isopropyl Myristate, Olea Europaea Fruit Oil, Cetearyl Alcohol, Isomalt, Cetearyl Olivate, Sorbitan Olivate, Tocopheryl Acetate, Calendula Officinalis Flower Extract, Euphrasia Officinalis Seed Extract, Mentha Piperita Extract, Panax Ginseng Root Extract, Ascorbyl Palmitate, Phytol, Lycium Barbarum Callus Culture Extract, Symphytum Officinale Root Cell Extract, Sodium Hyaluronate, Alcohol, Lecithin, Perfluorodecalin, Simmondsia Chinensis Seed Oil, Sucrose Palmitate, Glycosphingolipids, Sodium Benzoate, Potassium Sorbate, Sodium Lactate, Sodium PCA, Glycine, Fructose, Urea, Niacinamide, Inositol, Lactic Acid, Acacia Senegal Gum, Xanthan Gum, Magnesium Ascorbyl Phosphate, Benzoic Acid, Phenoxyethanol, Etylhexylglycerin, Dehydroacetic Acid, Polyaminopropyl Biguanide, Lonicera Caprifolium Flower Extract, Lonicera Japonica Flower Extract, Parfum, Citric Acid

Face Peeling: Cocos Nucifera Oil, Prunus Amygdalus Dulcis Oil, Sodium Chloride, Maris Sal, Cera Alba, Glyceryl Stearate, Chlorella Vulgaris Extract, Rosmarinus Officinalis Leaf Extract, Helianthus Annuus Seed Oil, Caprylic/Capric Triglyceride, Parfum
Lipolytic Body Lotion: Aqua, Glycerin, Cannabis Sativa Seed Oil, Olea Europaea Fruit Oil, Caprylic/Capric Triglyceride, Isopropyl Myristate, Cetyl Palmitate, Coco-Caprylate/Caprate, Cetearyl Alcohol, Cetyl Alcohol, Laminaria Hyperborea Extract, Propylene Glycol Diethylhexanoate, Gelidium Cartilagineum Extract, Phytosterols, Bacillus/Soybean Ferment Extract, Tocopheryl Acetate, Ascorbyl Palmitate, Calendula Officinalis Flower Extract, Acacia Senegal Gum, Xanthan Gum, Sorbitan Caprylate, Propanediol, Benzoic Acid Sodium Lactate, Sodium PCA, Glycine, Fructose, Urea, Niacinamide, Inositol, Sodium Benzoate, Lactic Acid, Lonicera Caprifolium Flower Extract, Lonicera Japonica Flower Extract, Carbon Dioxide, Parfum, Citric Acid
customers FAVORITE NATURAL
BEAUTY PRODUCTS
SKINCARE BESTSELLERS