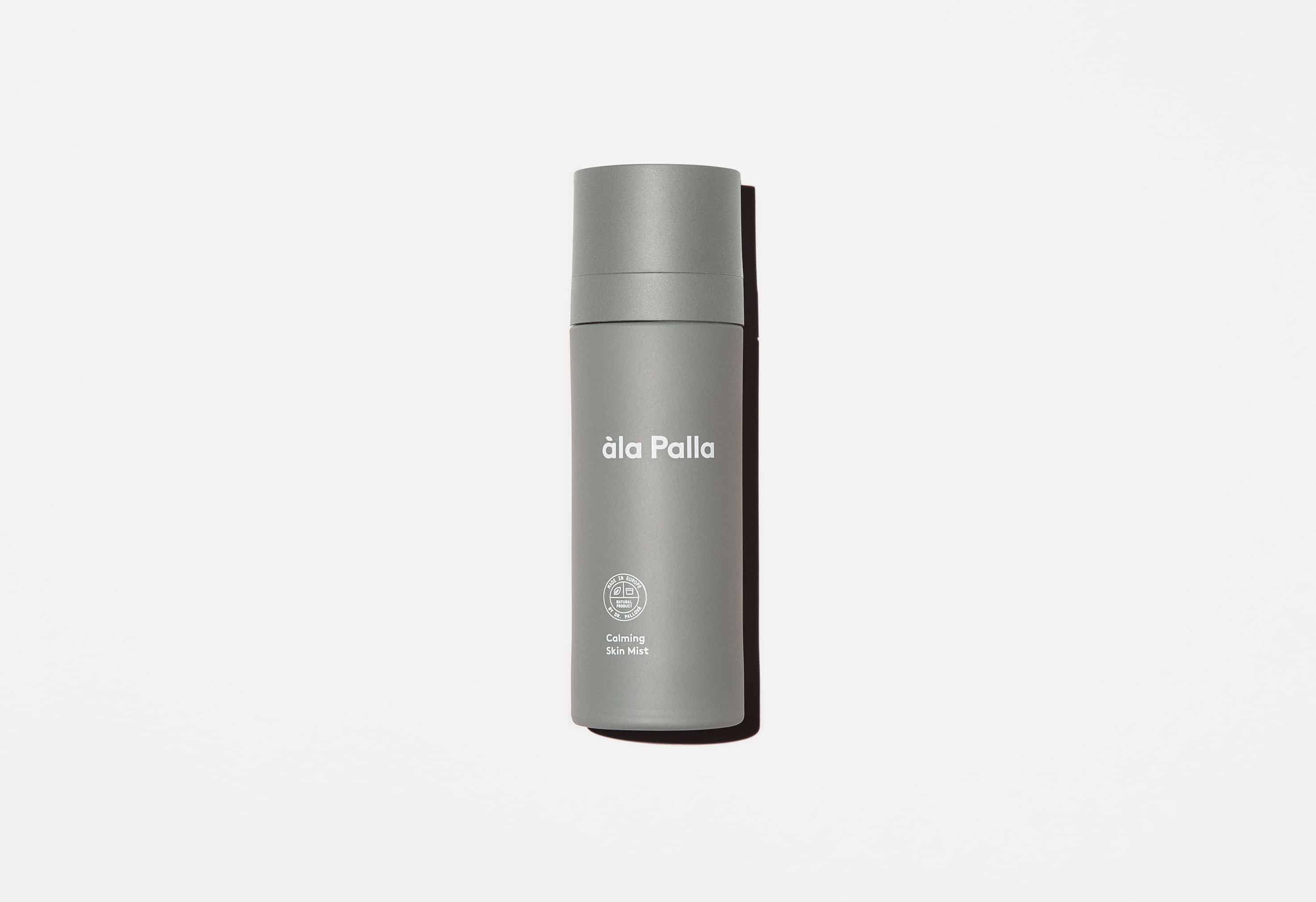 Calming Skin Mist
Soothing moisturising skin mist with panthenol for immediate skin refreshment. Enriched with Niacinamide, hyaluronic acid and ectoine. The active ingredients hydrate and sooth the skin. In addition, ectoine protects the skin from environmental effects, blue light and UV light. The mist contains hyaluronic acid in two forms to provide both an immediate and gradual moisturising effect. Apply as needed by spraying on the face, neck and décolleté.
Aqua, Glycerin, Niacinamide, Ectoin, Hydrolyzed Hyaluronic Acid, Panthenol, Sodium Hyaluronate, Lecithin, Alcohol, Sorbitan Caprylate, Propanediol, Benzoic Acid, Parfum
Niacinamide – also known as vitamin B3, is essential in metabolism of proteins, sugars and fats in living cells. Naturally occurring in our body, it plays a central role in energy metabolism. The cosmetics industry uses niacinamide for a whole range of its properties. It reduces sebum formation, contracts enlarged pores and prevents the skin from drying. It promotes collagen and ceramides formation in the skin and protects against free radicals. It prevents the formation of wrinkles and hyperpigmentation. It unifies skin tone, helps protect the skin against harmful impacts (external pollutants, UV light, blue light), reduces redness and spots on the skin and improves its elasticity. Its efficacy has been proved by numerous clinical studies.
Panthenol – is derived from pantothenic acid. This ingredient is naturally found in plants and is a form of vitamin B5. It has anti-inflammatory, antibacterial and calming effects. It improves skin hydration (softens the skin, leaves it smooth and restores its natural balance), reduces skin itching and accelerates healing of epidermal wounds (burns, insect bites). It is also used in medicines designed to treat acne and skin blemishes.
HyaCare® 50 – hyaluronic acid is a glycosaminoglycan that is natural present in a human body. It is a polysaccharide molecule that absorbs water well, significantly improving skin elasticity. This makes it an unbeatable anti-aging agent. Working like a water reservoir, hyaluronic acid maintains skin's elasticity. HyaCare® 50 rejuvenises the skin by improving its viscoelastic properties. It reduces deep lines and wrinkles and, at the same time, increases the content of hyaluronic acid in the skin and fills the wrinkles from the inside. The older the skin is, the less hyaluronic acid it produces, therefore, it is necessary to supply it in the form of drops, serums, creams, etc. In vivo tests have confirmed HyaCare® 50's high anti-aging efficacy. It is produced by fermentation of Bacillus subtilis, a process friendly to the environment. It notably softens deep wrinkles. An in vivo clinical study on HyaCare® 50 have demonstrated a visible improvement in skin elasticity by 14% after four to eight weeks of use of a preparation containing this active ingredient twice a day. A sensory skin analysis has demonstrated a visible softening of wrinkles by as much as 10%.
Ectoin® natural – a natural active ingredient produced by extremophile microorganisms from the Dead Sea. It protects the skin from various types of radiation, including sunlight. It can eliminate the effects of UV radiation on the skin and protect the skin from external factors such as pollution. Ectoine is the only molecule which can protect the skin from particles of any size. Several studies have shown that ectoine can prevent oxidative stress on the skin induced by blue light. Its composition creates a protective film on the skin's surface, protecting it from the adverse effects of blue light, external pollution and the effects of free radicals and toxins in the environment. It repairs the skin barrier, thus providing long-term hydration of the skin. It also has an anti-aging effect and is highly effective in reducing fine wrinkles around the eyes. It regenerates the damaged skin barrier and supports the repair of stressed and damaged skin.
Rovisome® HA with hyaluronic acid – contains an effective form of rare hyaluronic acid (HA) which is naturally found in almost every cell of the human body, where it retains moisture. Maintaining an optimal level of hyaluronic acid is important for a healthy, fresh and youthful appearance. Its ability to bind water is especially valuable as it supports skin hydration. Rovisome® HA penetrates easily into the deep layers of the skin. It is gradually released from microcapsules and hydrates the skin from the inside. It improves skin hydration, firmness and elasticity. The effect of Rovisome® HA is comparable to that of an hyaluronic acid injection. Approximately an hour after application, fine wrinkles become apparently smoother, giving the skin a fresher look.
Shake well before use. Apply as needed throughout the day.
Result:
The skin feels immediately hydrated, fresh and soothed after application.
Hygienic packaging and application of àla Palla products:
We hygienically fill the products into inert containers and immediately install applicators to minimize the access of additional air. Press about 20 times before first use. Store in a dry, cool and dark place to maintain quality. If necessary, clean and dry the applicator.
Warning: Avoid direct contact with eyes and mucous membranes. Keep away from children. Discontinue use if irritation oc-curs!
Shelf-life: Two years from the production date indicated on the packaging. Best used within six months of opening.
Refreshing
Anti blue light
Anti-pollution
Immediately hydrating
customers FAVORITE NATURAL
BEAUTY PRODUCTS
SKINCARE BESTSELLERS