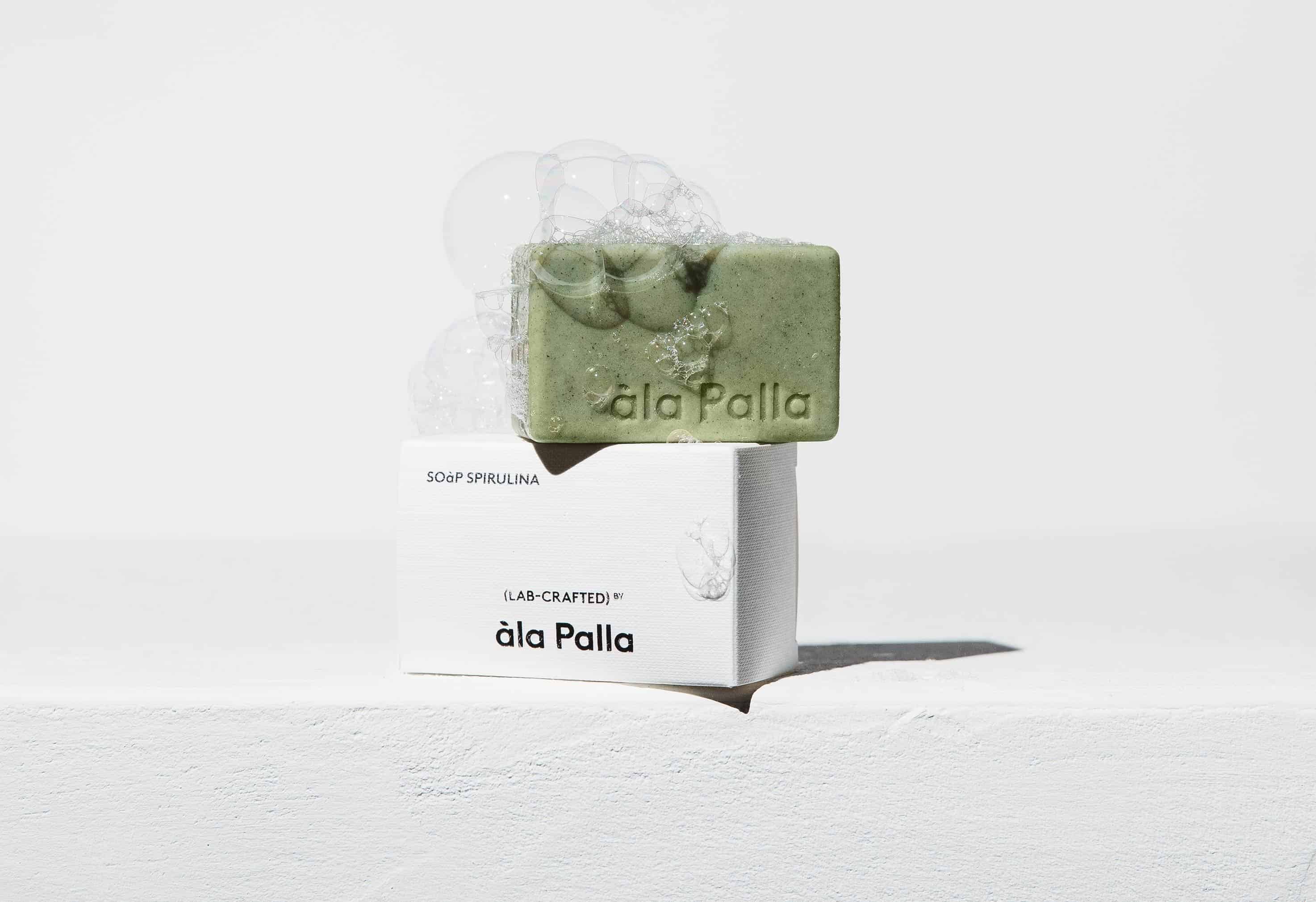 Spirulina Soàp
Natural soap made of shea butter, olive and coconut oil, with spirulina and Atlas Cedar (Cedrus Atlantica) essential oil. Soft and fine, the soap is good for all types of skin – including dry and sensitive skin. No perfumes added, its sweet woody scent comes from the natural Atlas Cedar essential oil.
For all types of body and hand skin – including dry and sensitive. Not suitable for face.
Butyrospermum Parkii Butter, Aqua, Olea Europaea Oil, Cocos Nucifera Oil, Sodium Hydroxide, Spirulina Platensis Powder, Cedrus Atlantica Bark Oil, *D-limonene
*From 100 % natural essential oils
Spirulina (Arthrospira Platensis) – is a green blue freshwater alga known for centuries, especially in Asian cultures. It consists of spiral microscopic filaments invisible to the naked eye. It has a high content of vitamins, minerals, nutrients and enzymes; its green colour comes from chlorophyl. With its antioxidant properties, it protects the skin against oxidation stress, boosts its regeneration, improves its appearance, and contributes to its overall health.
Shea butter – obtained from oily nuts of the African shea tree that grows in the western and central parts of Africa. It contains essential fatty acids, vitamin A, vitamin D, and vitamin E, and stimulates the healing of chapped or otherwise damaged skin. Shea butter hydrates the skin, helps treat problematic skin, and has anti-inflammatory effects.
Cedrus atlantica – Atlas cedar essential oil – Atlas cedar is a majestic coniferous tree of the pine family that can grow as high as 30 meters. The essential oil is rich in vitamins of groups A, B, D and E, and amino acids. It has an anti-inflammatory effect, protects the skin against reddening, and reduces signs of ageing. In aromatherapy, it's known for its sweet and woody scent that has a soothing effect. It boosts brain activity, reduces stress and helps relax.
As needed for all types of body and hand skin – including dry and sensitive. Not suitable for face.
Cleansing
Antioxidizing
Soothing
customers FAVORITE NATURAL
BEAUTY PRODUCTS
SKINCARE BESTSELLERS