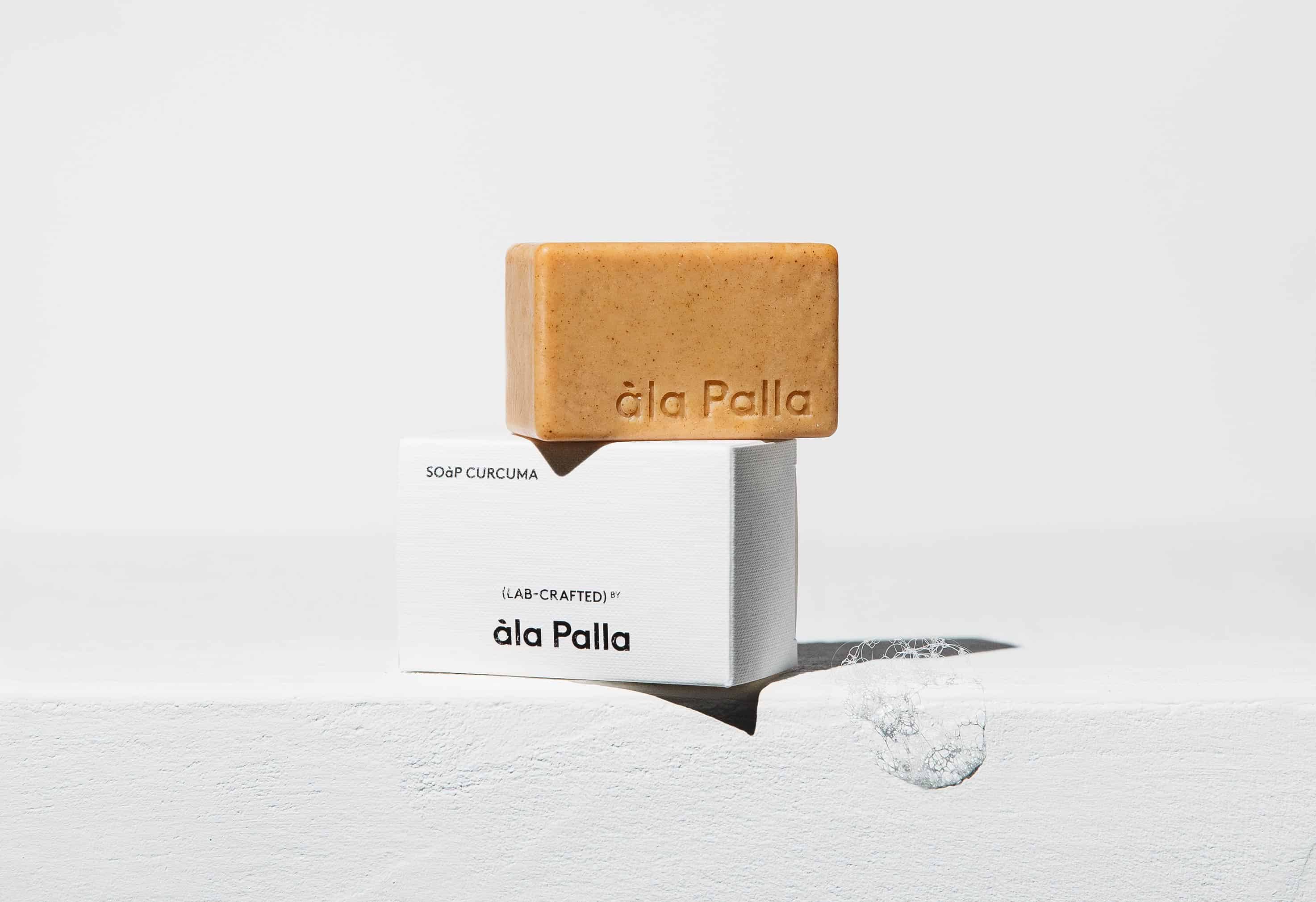 Curcuma Soàp
Natural soap made of shea butter, olive and coconut oil, with curcuma and aromatic litsea (Litsea Cubeba) essential oil. Soft and fine, the soap is good for all types of skin – including dry and sensitive skin. No perfumes added, its subtle lemon scent comes from the natural aromatic litsea essential oil.
For all types of body and hand skin – including dry and sensitive. Not suitable for face.
Butyrospermum Parkii Butter, Aqua, Olea Europaea Oil, Cocos Nucifera Oil, Sodium Hydroxide, Curcuma Longa Rhizome Powder, Litsea Cubeba Fruit Oil, *Citral, *Linalool, *Geraniol, *Citronellol, *D-limonene
*From 100 % natural essential oils
Litsea Cubeba – a pure essential oil from Litsea Cubeba plant with strong antiseptic and antiviral effects. A rare oil obtained from the fruits of an evergreen plant with an average yield of 5% only, with a subtle citrus scent. The essential oil is rich in antioxidants and helps prevent premature aging of the skin. It regenerates and cleanses the skin, helps with problematic skin conditions (eczema, psoriasis, allergies, dermatitis), with sebum production control and elimination of body odours.
Turmeric (popularly called Indian Saffron) – an extract obtained from Curcuma longa plant is known for its anti-inflammatory and antioxidizing effects. Mostly grown in Asia where it has long been used in traditional medicine. It eliminates excessive sebum production and, when regularly used, helps remove pigment spots and unifies skin tone. It has a strong anti-aging and anti-wrinkle effect, thus contributing to skin rejuvenation. Suitable for use to treat skin problems.
Shea butter – obtained from oily nuts of the African shea tree that grows in the western and central parts of Africa. It contains essential fatty acids, vitamin A, vitamin D, and vitamin E, and stimulates the healing of chapped or otherwise damaged skin. Shea butter hydrates the skin, helps treat problematic skin, and has anti-inflammatory effects.
Olive oil – the yellow green to light yellow oil is obtained from ripe olives (20-50% oil content). It contains two unique substances: Rare natural antioxidant hydroxytyrosol that protects the skin structure against harmful effects of free radicals, regenerates minor wounds and acne, and has a soothing effect on eczema and allergic skin reactions. Another substance is an equally rare squalene of plant origin, the so-called phytosqualene, which improves the penetration of active ingredients into the skin and protects it against drying.
As needed for all types of body and hand skin – including dry and sensitive. Not suitable for face.
Cleansing
Regenerating
Rejuvenating
customers FAVORITE NATURAL
BEAUTY PRODUCTS
SKINCARE BESTSELLERS